Clarus Physicians and Physician Assistants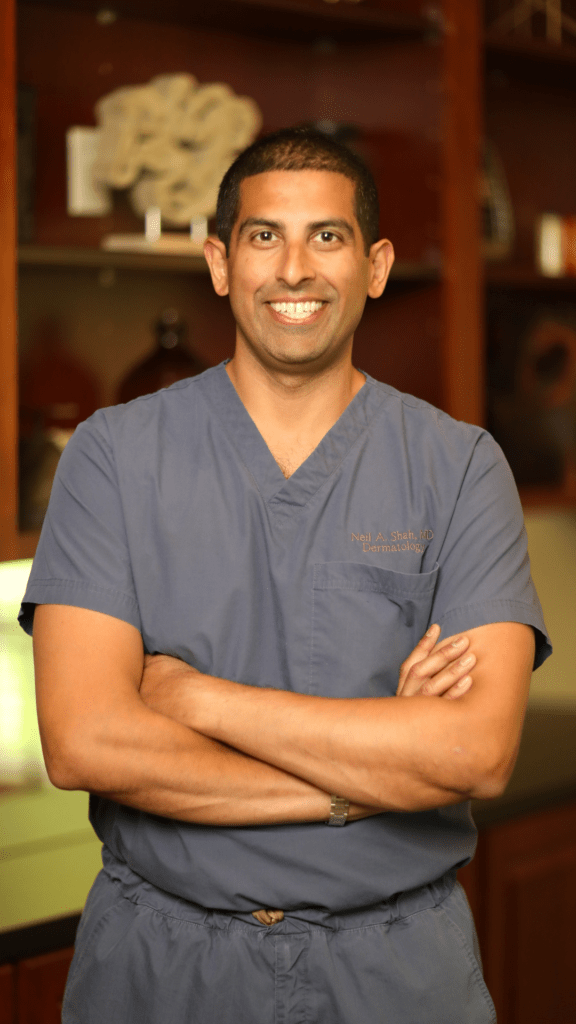 Neil A. Shah, MD, FAAD
FOUNDER & MEDICAL DIRECTOR; ADJUNCT CLINICAL
ASSISTANT PROFESSOR, UNIVERSITY OF MINNESOTA
Dr. Shah is a board-certified dermatologist and Medical Director of Clarus Dermatology. Prior to establishing Clarus Dermatology, Dr. Shah started the dermatology department for HealthEast Clinics. His clinical practice interests include skin cancer and reconstructive surgery, and medical and cosmetic dermatology.
Dr. Shah teaches physician assistants from the Bethel University and remains active with educating his peers in practice management and cutaneous surgery. He is a member of the American Academy of Dermatology (AAD), the American Medical Association, a Diplomat of the American Board of Dermatology, a Fellow of the American Society for Mohs Surgery and a member of the American Society for Dermatologic Surgery.
Dr. Shah is a 2007 graduate of the University of Minnesota Medical School where he was elected to the Alpha Omega Alpha Honor Society. Dr. Shah completed his residency at the Mayo Clinic in Rochester, Minn. with an internship in internal medicine. Before medical school, he graduated magna cum laude from Ursinus College with departmental honors in Biology. He is a member of the Phi Beta Kappa Honor Society, the Tri-Beta Biological Honor Society, and the Sigma Xi research honor society.
A former director of the Twin Cities Medical Society, he also served as a member of the Policy Council for the Minnesota Medical Association. He is past president of the Minnesota Dermatological Society as well as president of Doctors for the Practice of Safe and Ethical Aesthetic Medicine.
Laura Stanz, PA-C
Physician Assistant
Laura Stanz, PA-C has been a practicing physician assistant for over 7 years. She received her Masters of Medical Science in Physician Assistant studies from Midwestern University and a Bachelors of Science in Biology from Bethel University. Laura began her career in Family Medicine where she managed a wide variety of acute and chronic illness and did wellness exams.
An interest in dermatological concerns, led Laura to transition professionally to a PA career specializing in dermatology. She sees a wide variety of skin concerns and specifically appreciates helping patients clear up their skin for conditions such as acne, psoriasis and eczema. Laura's compassionate style of care with patients is demonstrated as she works together with her patients towards development of effective treatment plans. She also enjoys assisting Dr. Shah in Mohs surgery cases.
Laura is originally from Chicago and still is an avid Chicago sports fan. She and her husband love spending time with their son, Jordan and dog, Rosie. In her free time, Laura enjoys traveling, exercising, cooking and hosting gatherings at her home.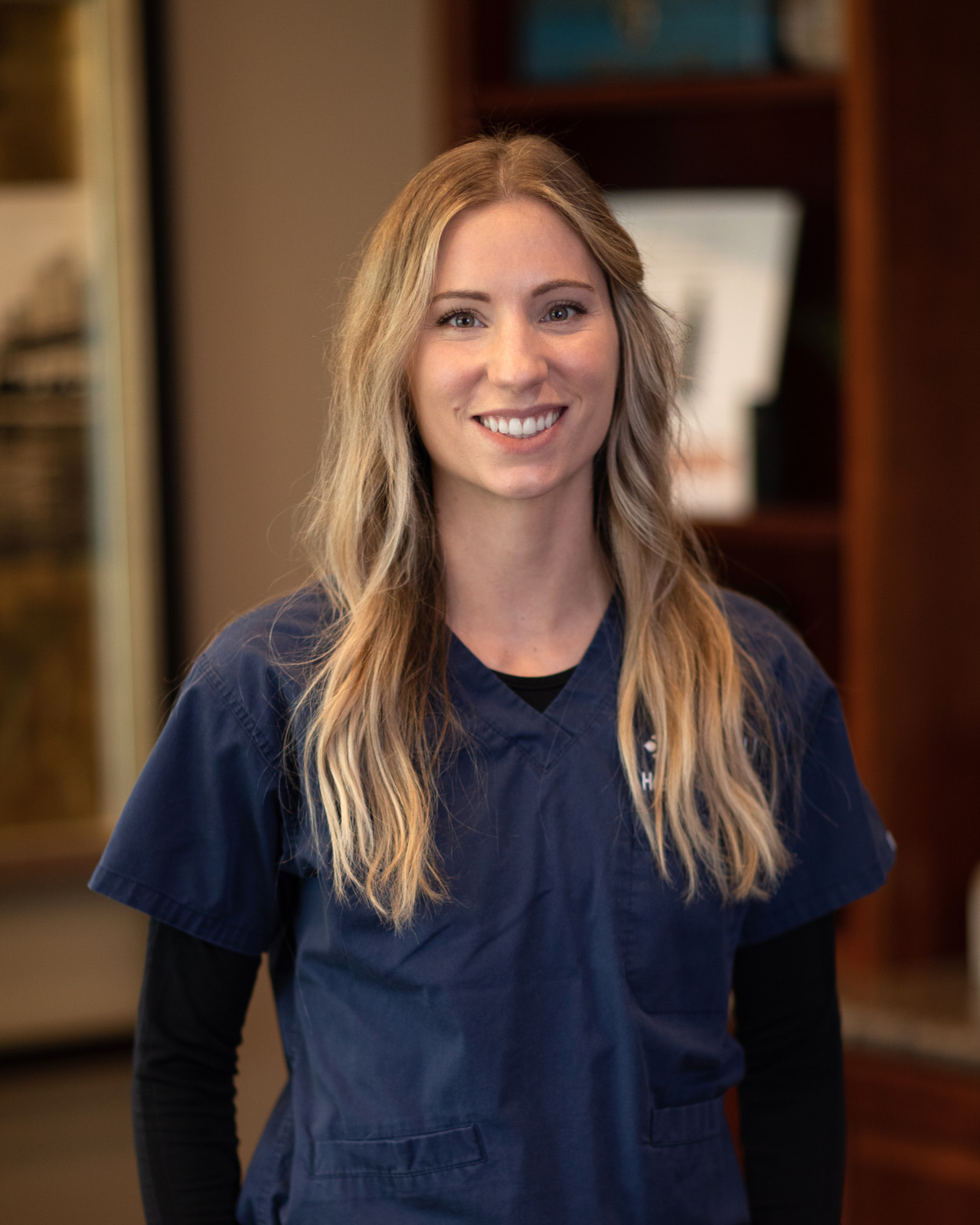 Heather 
Guertin

, MPAS, PA-C
Physician Assistant
After returning home to Minnesota, Heather Guertin, MPAS, PA-C, started her career in emergency medicine. In that role, Heather encountered patients with a wide variety of health conditions for whom she diagnosed the cause of illness and established a treatment plan to improve their condition. As she cared for patients, she discovered a passion for dermatology, which she began pursuing as her specialty. In addition to her general dermatology skills, Heather has a specific interest and talent in cosmetic dermatology, listening to her patients' goals and concerns and formulating a plan to achieve the best cosmetic results. Her favorite cosmetic procedures include Botox, dermal fillers, and chemical peels. In her spare time, Heather enjoys being outdoors, drinking coffee, camping, and hiking. She also loves spending time with her husband and two young daughters.
Heather earned her Master's Degree in Physician Assistant studies from the Massachusetts College of Pharmacy and Health Sciences in Boston, Massachusetts where she graduated with honors. She earned a Bachelor's Degree in Biology from the University of Minnesota, Twin Cities.
Meghan 
Brant

, MPAS, PA-C
Physician Assistant
Meghan Brant, MPAS, PA-C earned her Master's Degree in Physician Assistant Studies from Augsburg College. She most recently graduated from a 12-month Dermatology fellowship program through the Medical College of Wisconsin. She received her B.A. in Psychology at Gustavus Adolphus College where she was a captain of the Women's tennis team. Meghan practiced in Primary Care for several years after graduation and enjoyed the relationships she formed with patients of all ages. She then became involved in academia as an Assistant Professor at the St. Catherine Physician Assistant program. For the next 6 years she spent time in the classroom and practiced clinically at the on-campus Health and Wellness Center.
She has precepted many students over the years and continues to teach in the classroom when able. She enjoys being able to give back to her profession in small but impactful ways. She has had a love for Dermatology since her first elective rotation in PA school. It continued throughout her time in Primary care and academia. Her students would agree that she was most excited when teaching about the skin! She understands the importance of protecting our skin as well as the emotional impact skin conditions can have on individuals of all ages. Her Dermatology fellowship solidified her desire to embark on a career in this specialty. Meghan enjoys traveling, visiting her parent's lake cabin in Northern MN, sports, being outdoors and spending time with her extended family, friends, husband and 3 young children. She can't wait to get a big dog someday!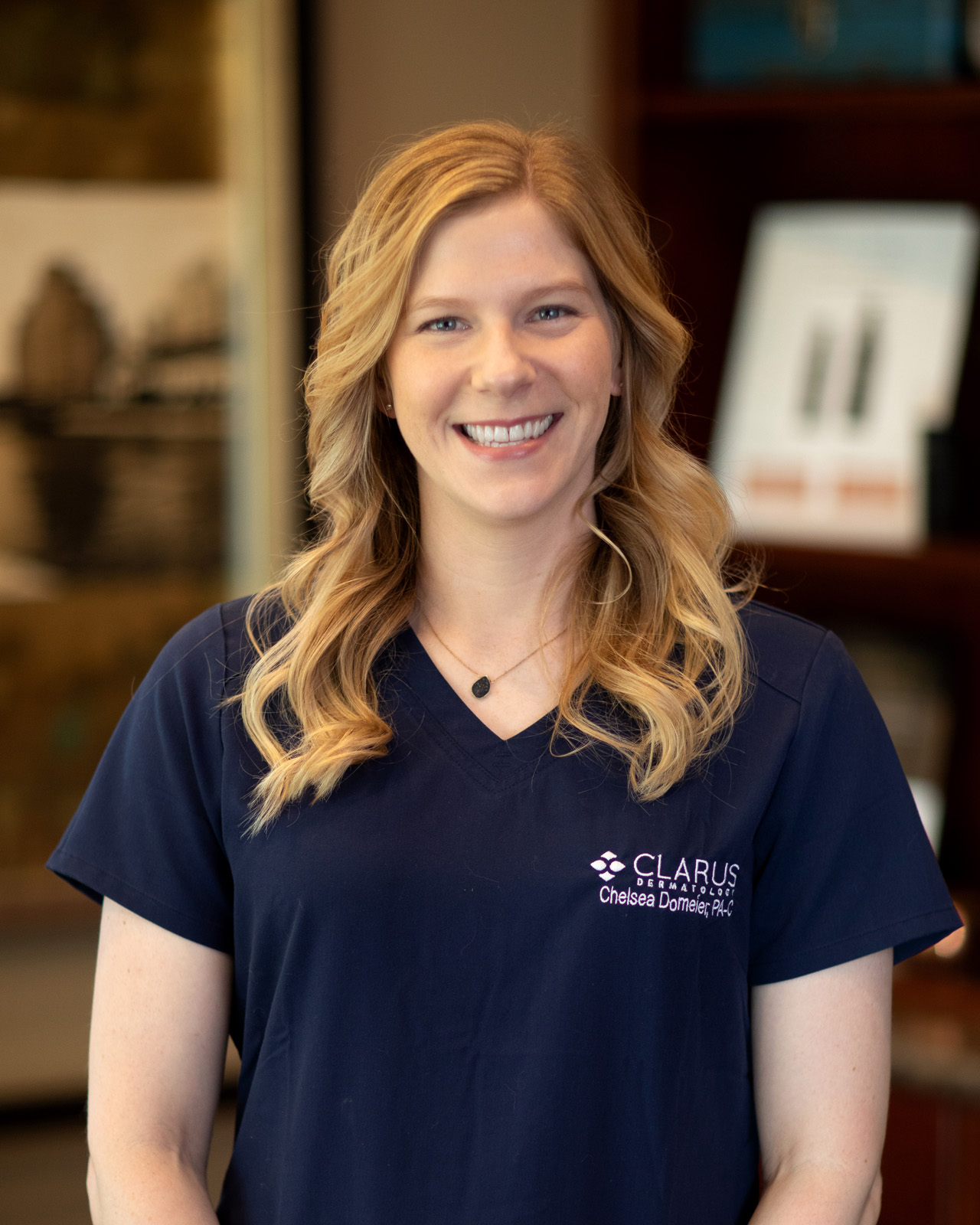 Chelsea Domeier, MPAS, PA-C
Physician Assistant
Chelsea Domeier, MPAS, PA-C, enjoys treating patients of all ages. Practicing dermatology since 2018, she strives to provide each patient with an individualized treatment plan to give them the quality of care she would want her family and friends to receive. She especially enjoys educating patients regarding their skin care.
Following completion of her Bachelor of Arts Degree from Gustavus Adolphus College in St. Peter, Minnesota, Chelsea earned her Master's Degree in Physician Assistant Studies from Bethel University in St. Paul.
Chelsea received her Physician Assistant National Certification in 2016 and began her medical career in family practice and urgent care. She immediately discovered a passion for developing relationships with her patients. Her life-long interest in skin conditions and skin care resulted in her eventual focus on dermatology.
Chelsea and her husband enjoy their two cats at home and love spending time on the lake with her family at their Northern Minnesota cabin. Chelsea is always on the lookout for her next travel destination for exploring, hiking, biking, and snowboarding.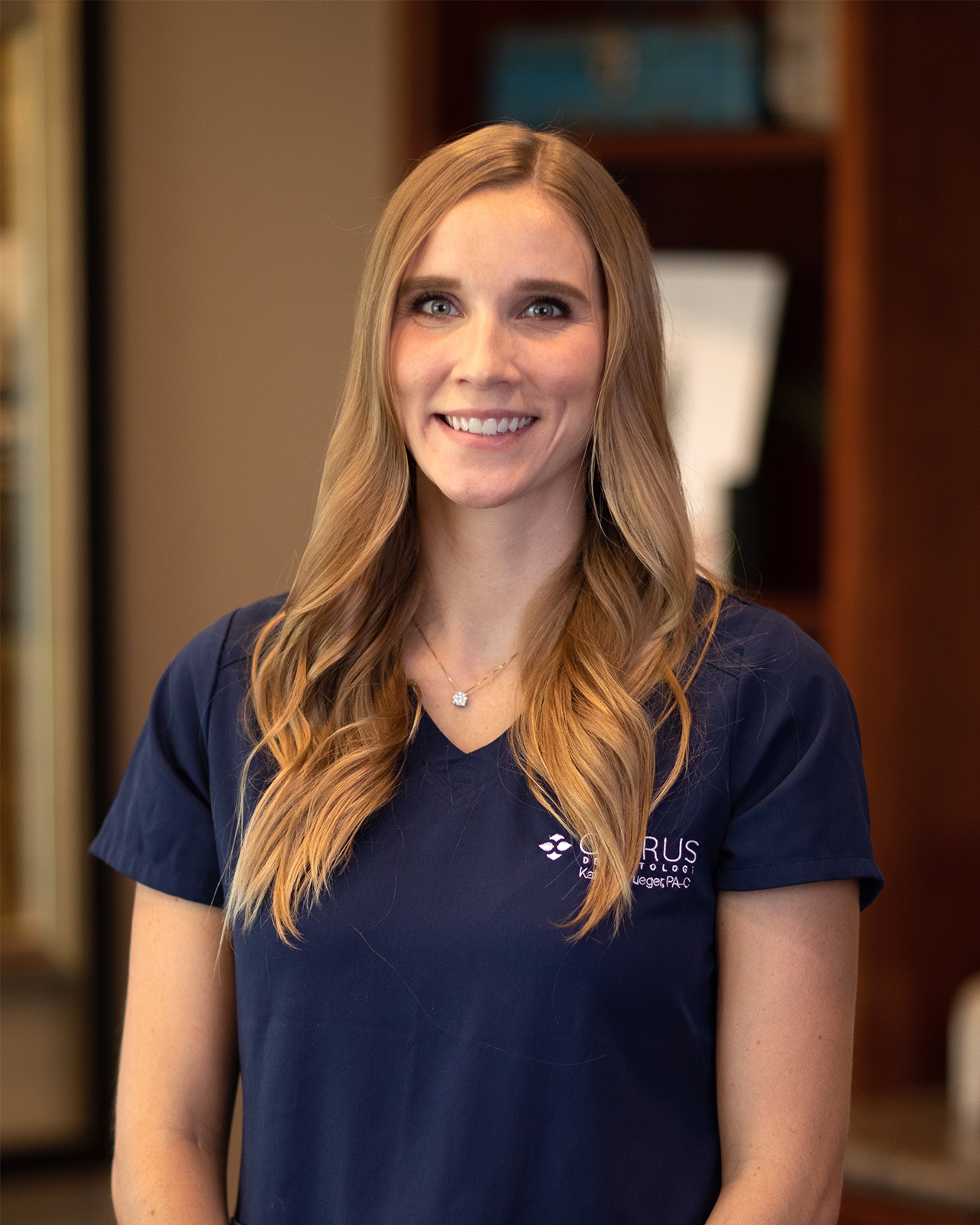 Katelyn Krueger, MPAS, PA-C
Physician Assistant
Katelyn Krueger, MPAS, PA-C, enjoys treating a variety of skin issues, helping others feel confident in their skin. She strives for early detection and prevention of skin cancer. Katelyn's practice model is based upon informed decision making, which involves educating patients about their options and working with them to create a treatment plan.
Katelyn earned a Master's Degree in Physician Assistant Studies from the University of North Dakota. Prior to PA school, she completed a Bachelor's Degree in Radiologic Sciences from North Dakota State University and worked in radiology for four years as an IR and CT Technologist. Katelyn became interested in dermatology early on in PA school as she dealt with some skin issues herself. She chose to do an elective rotation with Clarus Dermatology and loved the variety of medical, procedural, and cosmetic dermatology.
After ten years in North Dakota, Katelyn and her husband moved back to central Minnesota to live out their dreams of spending summers at the lake as well as to be closer to their families. Together they enjoy lake activities, campfires, snowboarding, hockey, and traveling. They may usually be found accompanied by their little dachshund, Waylon. Katelyn enjoys trail running, reading, and cooking. She dreams of compiling her very own cookbook one day.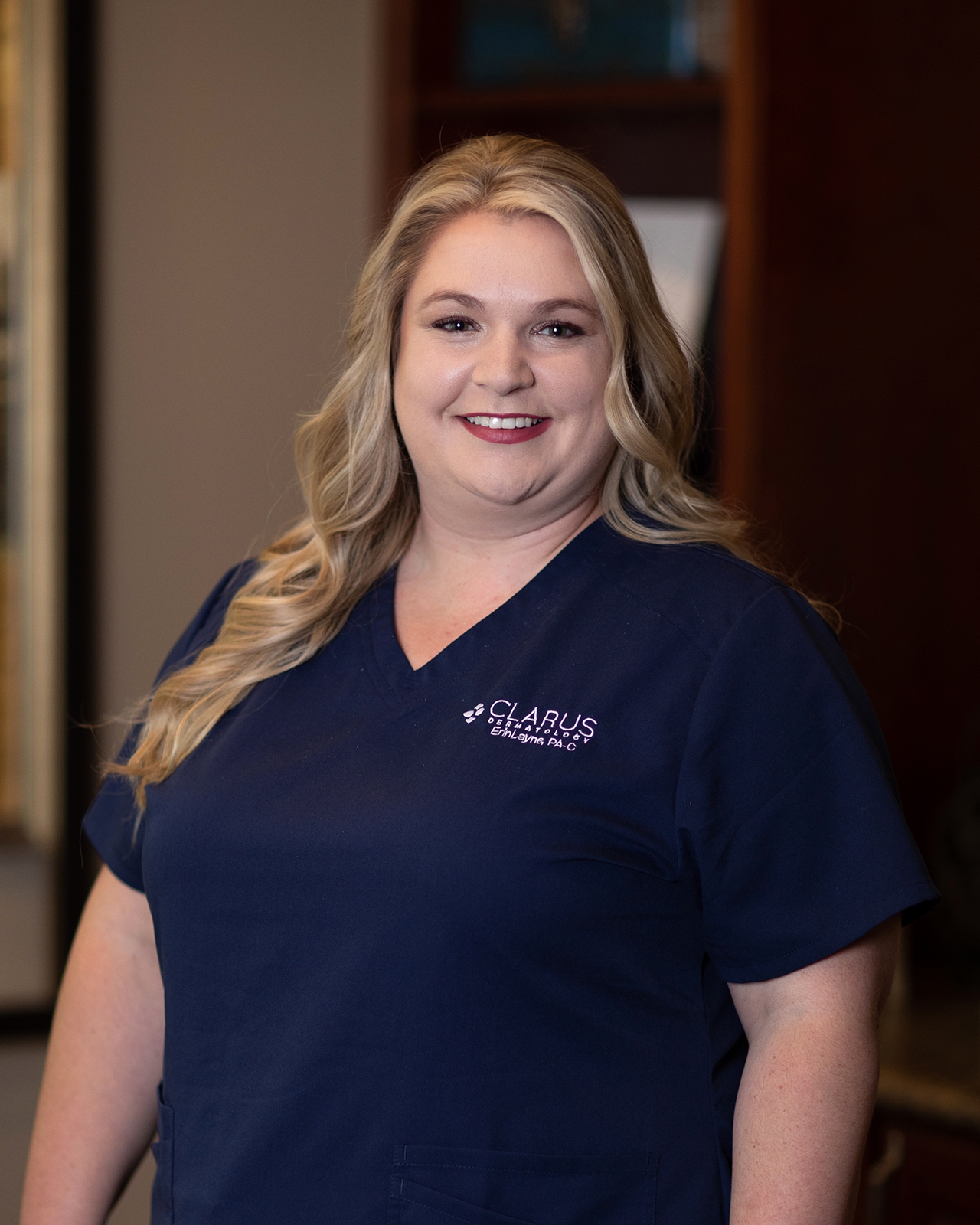 Erin Layne, MPAS, PA-C
Physician Assistant
Erin Layne, MPAS, PA-C earned her Masters Degree in Physician Assistant Studies from James Madison University in Harrisonburg, Virginia. Before that, she earned her Bachelor's degree in Biology and Chemistry from the University of North Dakota (leading to Erin's frequent cheer,"Go Sioux!").
Erin began her career as a Physician Assistant in urgent care serving Richmond, Virginia and surrounding communities. In that role, she gained a wide range of experiences, including management of a variety of patient illnesses. Prior to becoming a Physician Assistant, Erin trained as a medical assistant in a dermatology office. She developed a passion for the specialty and knew she wanted to further her career in the dermatology field as a Physician Assistant.
Erin and her husband enjoy spending time with their dogs, Leo and Ruby, traveling, spending time on the lake, and enjoying the company of family and friends.