Clarus Physicians and Physician Assistants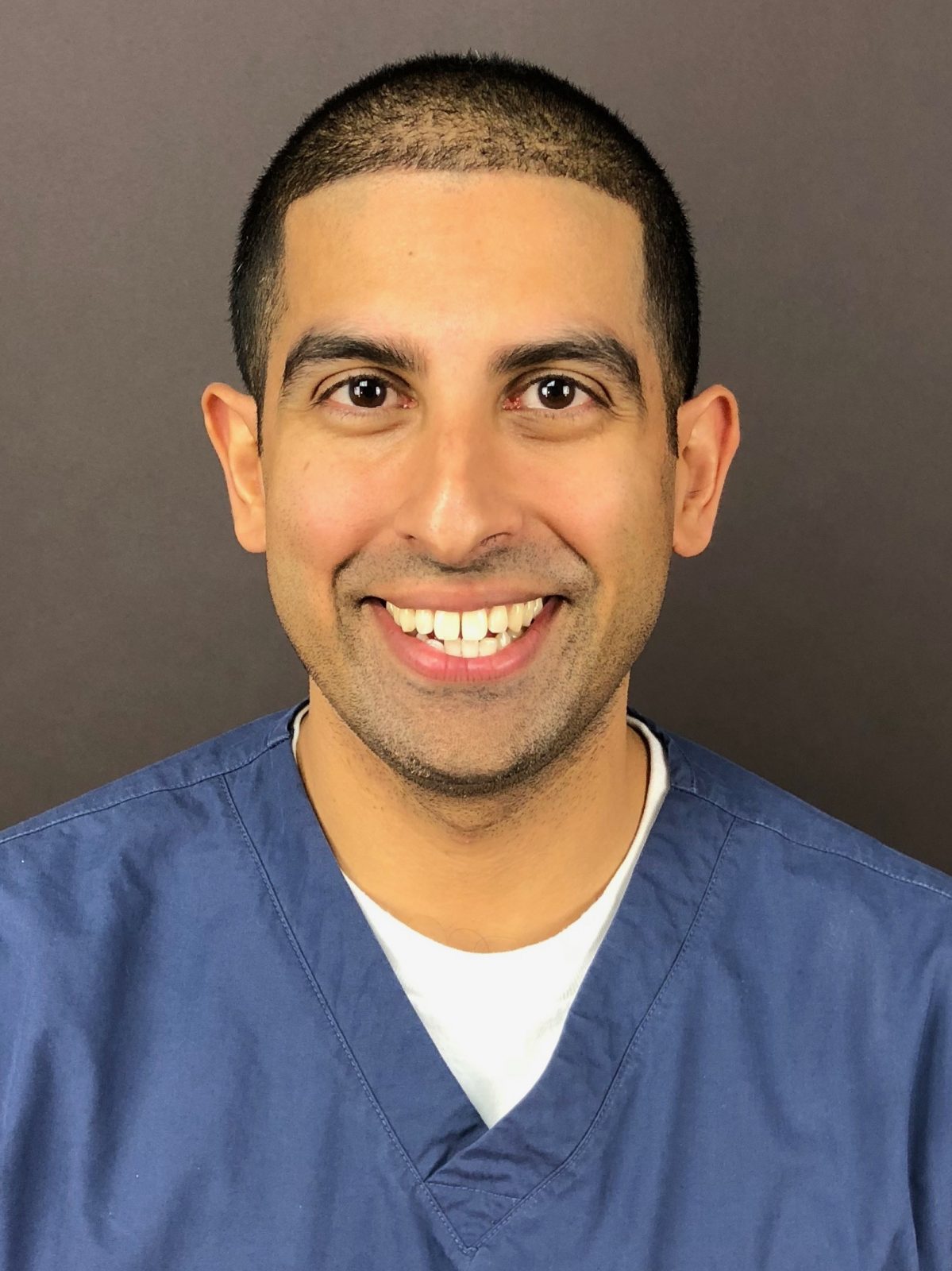 Neil A. Shah, MD, FAAD
Founder & Medical Director; Adjunct Clinical Assistant Professor, University of Minnesota
Dr. Shah is a board-certified dermatologist. He graduated from the University of Minnesota Medical School, Alpha Omega Alpha Honor Society, in 2007. Dr. Shah completed his residency at Mayo Clinic in Rochester, Minn. with an internship in internal medicine.
Prior to creating Clarus Dermatology, Dr. Shah started the dermatology department for HealthEast Clinics. He graduated magna cum laude from Ursinus College with departmental honors in Biology. He is a member of the Phi Beta Kappa Honor Society, the Tri-Beta Biological Honor Society and the Sigma Xi research honor society.
Dr. Shah is a member of the American Academy of Dermatology (AAD), the American Medical Association, a Diplomat of the American Board of Dermatology, a Fellow of the American Society for Mohs Surgery and a member of the American Society for Dermatologic Surgery. He is a former director of the Twin Cities Medical Society and prior member of the Policy Council for the Minnesota Medical Association. Currently he is the Immediate Past President of the Minnesota Dermatological Society as well as President of Doctors for the Practice of Safe and Ethical Aesthetic Medicine.
Dr. Shah's clinical practice interests include skin cancer and reconstructive surgery, medical and cosmetic dermatology. He actively teaches family medicine residents from the North Memorial Hospital. In addition he remains involved with education of his peers in practice management and cutaneous surgery.
Outside of clinical practice, Dr. Shah enjoys travel, reading, shooting and track days. Dr. Shah is an avid Twins fan, Timberwolves fan and, yes, Chicago Bears fan. On the weekends you'll find him riding around on his tractor with his three little children.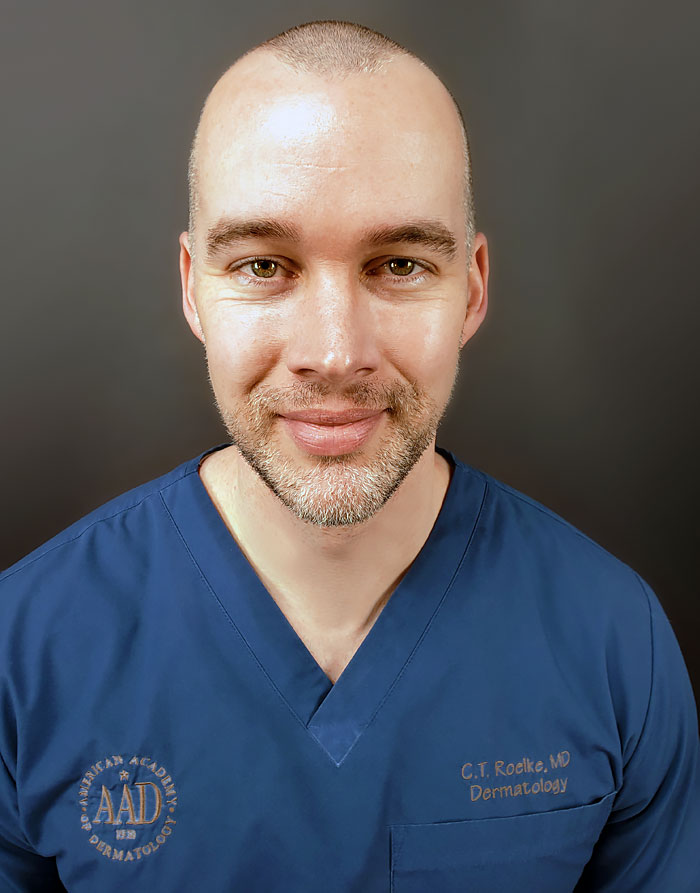 CRAIG ROELKE, MD, FAAD
Associate Medical Director; Adjunct Clinical Assistant Professor, University of Minnesota
Craig Roelke, MD, FAAD earned his medical degree from the University of Wisconsin-Madison in Madison, WI and completed his dermatology training at the Mayo Clinic in Rochester, MN.
As a board-certified Mayo Clinic-trained dermatologist, Dr. Roelke is experienced in the treatment of complex skin disorders. He is a true general dermatologist; he is passionate about all aspects of medical and surgical dermatology as well as dermatopathology (the microscopic study of skin lesions/conditions). He is an enthusiastic teacher of the specialty, actively participating in medical resident education. He enjoys seeing patients of all ages, from the young to the young at heart.
Dr. Roelke brings the concept of mindfulness to his dermatology practice – a true focus and active attention on the patient, allowing him to be fully present during each visit. He employs strong leadership principles and believes in the team approach, ensuring comprehensive care during all visits and in all follow-up. Dr. Roelke believes in actively engaging his patients in the treatment and understanding of their skin.
Dr. Roelke is a Fellow of the American Academy of Dermatology, Diplomat of the American Board of Dermatology, and a member of the American Society for Dermatologic Surgery. He is a native of Milwaukee, WI but an ardent resident of the Twin Cities. He is a fitness enthusiast, avid cook, and oenophile and may be spotted at one of many local culinary establishments, foraging for mushrooms, or tending to his bonsai.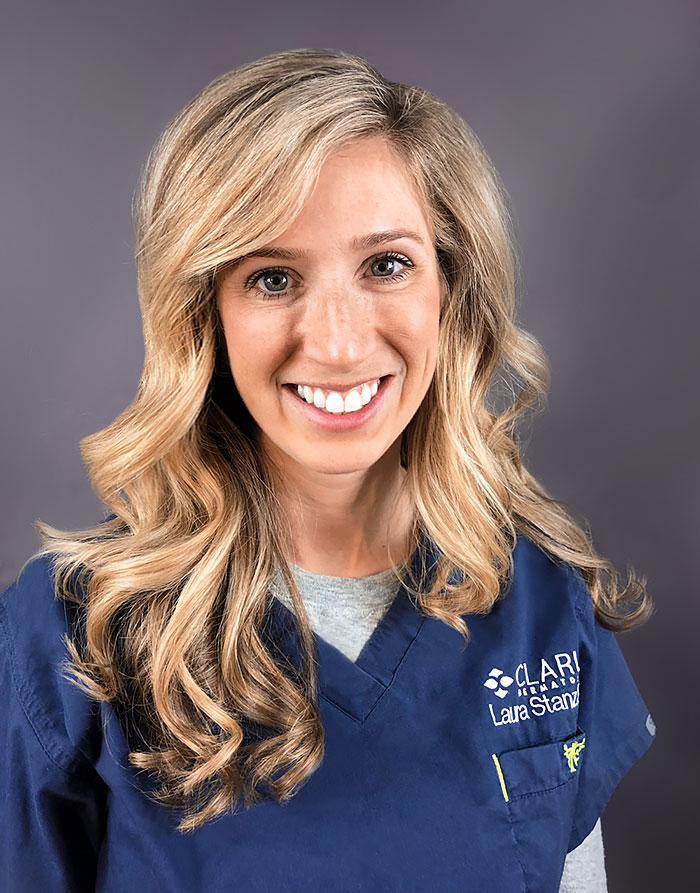 Laura Stanz, PA-C
Physician Assistant
Laura Stanz, PA-C has been a practicing physician assistant for over 7 years. She received her Masters of Medical Science in Physician Assistant studies from Midwestern University and a Bachelors of Science in Biology from Bethel University. Laura began her career in Family Medicine where she managed a wide variety of acute and chronic illness and did wellness exams.
An interest in dermatological concerns, led Laura to transition professionally to a PA career specializing in dermatology. She sees a wide variety of skin concerns and specifically appreciates helping patients clear up their skin for conditions such as acne, psoriasis and eczema. Laura's compassionate style of care with patients is demonstrated as she works together with her patients towards development of effective treatment plans. She also enjoys assisting Dr. Shah in Mohs surgery cases.
Laura is originally from Chicago and still is an avid Chicago sports fan. She and her husband love spending time with their son, Jordan and dog, Rosie. In her free time, Laura enjoys traveling, exercising, cooking and hosting gatherings at her home.